FAQ: Can I scrobble to Last fm while I listen in Roon?
Yes, all you need to do is sync your Last.FM account in your Roon profile.




To do that, click your profile in the top corner of Roon, t

hen select Manage Profiles, and press the Edit button




You can also access your profiles from Roon's settings, like so: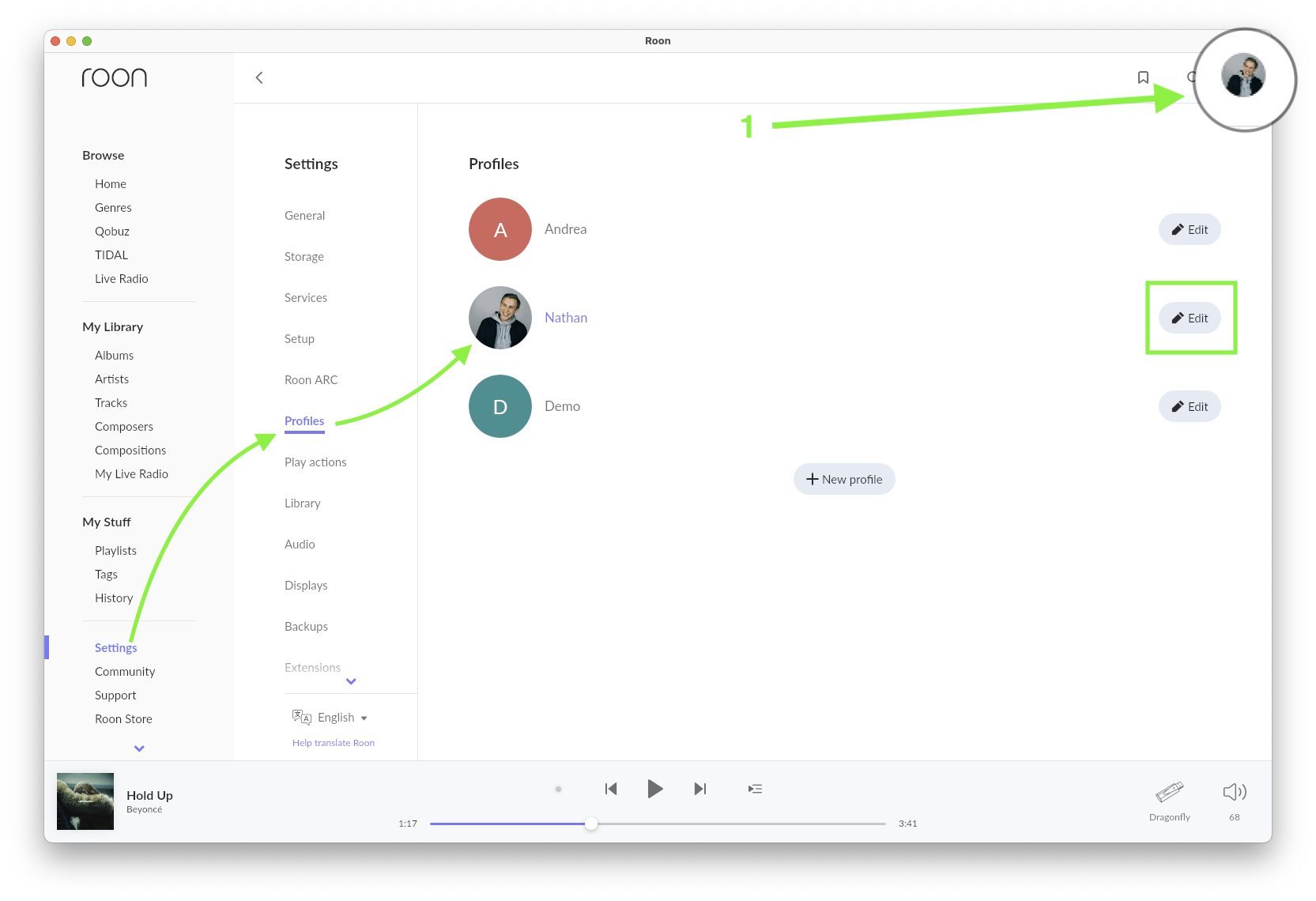 Enter your Last.fm account credentials and click Save. Roon will start sending scrobbling details to Last.FM!

Related Articles

FAQ: Does Roon support DSD?

Yes, Roon supports DSD. In terms of transports, Roon supports: DSD over PCM (DoP) v1.0 DSD converted to PCM in Roon, sent as PCM to your DAC DSD-Direct (DSD-Native) using ASIO drivers on Windows PCM to DSD Sample Rate Conversion In terms of file ...

FAQ: How do I set up Roon to use my DAC?

Start in Settings, which you can access by clicking the Navigation button, then clicking Settings: In Settings, click Audio and find your DAC. You should see a big "Enable" button next to it, like I'm seeing here for my DragonFly: Click Enable, then ...

FAQ: Why is Roon converting to PCM?

The most common reasons why DSD is converted to PCM are: The audio device isn't reporting DSD support to Roon The audio device isn't configured to support DSD playback Volume leveling or Crossfade are enabled for the current zone Features in the DSP ...

FAQ: What's Radio and how does it work?

What is Roon Radio? Designed from the ground up with machine learning technology, Roon Radio can play a mix of your favorites along with music from beyond your library, using the vast catalog of music from TIDAL and Qobuz. Roon Radio makes ...

FAQ: Why did all my zones disappear?

If your zones are not showing up in Roon, or all of your audio outputs are gone, it typically indicates: A networking problem is interfering with Roon's ability to communicate with your zones. Review our network best practices for tips on ensuring ...
Visit the Roon Community!

Need help? Thousands of Roon subscribers and audio enthusiasts are chatting over on our community site right now, join them! You don't even need a Roon subscription to sign up.