To access your Tidal content:

1. Navigate to either Artists, Albums, or the Tracks view in your library.
2. Click on the Focus dropdown.
3. Click the navigation arrow to scroll across different filters, until you reach Storage Locations.

4. Select TIDAL Library, and collapse the focus dropdown.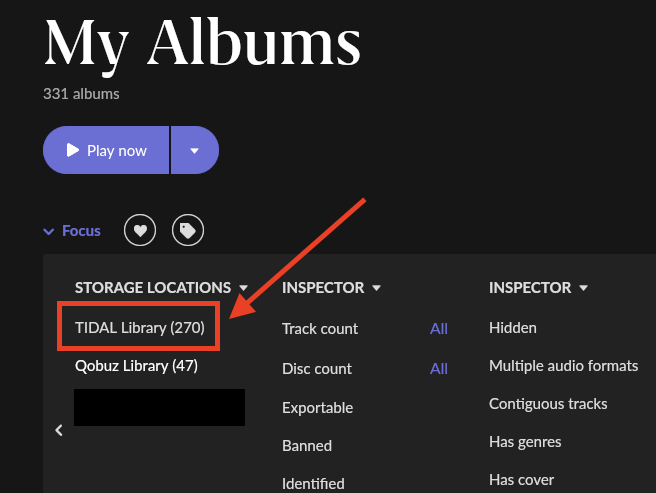 Removing A Single Album
Select the album you wish to remove, and click the three-dot dropdown. From there, click Remove from library :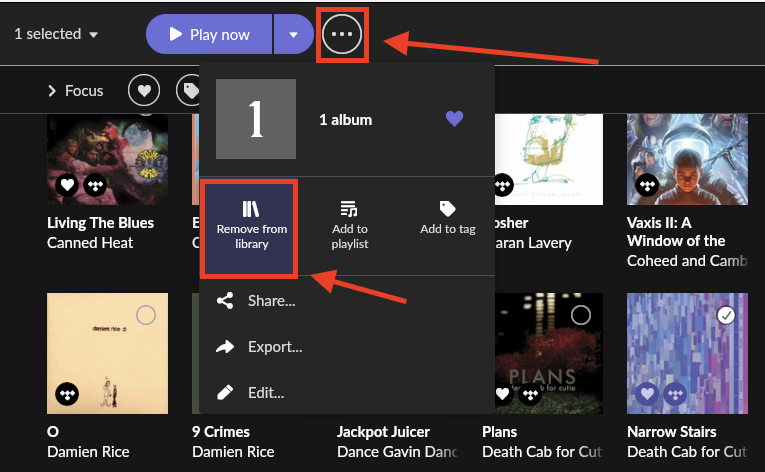 You'll receive a final pop-up confirming your request:

Removing Your Entire TIDAL Collection
If you want to delete all the TIDAL content you've added, follow the below steps. Be careful to only remove the content you actually want to remove from your library!
With the album browser "Focused" on your TIDAL collection, double-check to make sure you're only seeing content you want removed (Note: You can sort by Import Date to see when everything was added to your library.)

Select one of the albums you want to remove.

In the top-left, click where it says "1 Selected" and choose Select All. At this point, you should have selected all the albums you want to remove.

Click the same three dots in the top-right, then click Remove from library.

Confirm you're removing the correct TIDAL content, and you're all set!