File Tag Encoding and Display Issues
If some characters are not displaying properly in Roon, it's possible your file tags are using an outdated encoding scheme, and need to be encoded in Unicode/utf8.
Example of tags that do not use Unicode

Updating File Tags to Unicode
There are a number of ways to update your tags to Unicode.


Before making any edits to your file tags, we STRONGLY advise making backups of your content first. This will ensure that any source materials are maintained in their original state
Windows users can follow these steps:

Step 1 - Install mp3Tag

Visit the
mp3Tag website
and download the software.
Note that Mp3Tag is a native Windows application.
Step 2 - Add Your Directory

Once mp3Tag is installed, launch the application, and click the "Add Directory" icon to import your content.

Step 3 - Select Your Songs

Once your content appears in mp3Tag, select all the songs you want to update. Right click on your selection and select "Convert" then click "Actions."

Step 4 - Create Your Action Group

Once the "Actions" pop-up window appears, you will need to add a new "Actions Group."

Select the "New" icon on the righthand side of the window. The "Name of Action Group" window will appear -- name the new action something like "Character Set" and hit "OK."

Step 5 - Configure Your Action Group

You will now be prompted to select an action. On the righthand side of the window select the "New" icon. The "Select Action Type" pop-up will appear. From the dropdown tree, select "Convert Codepage."

Once "Convert Codepage" has been selected, the "Convert Codepage" pop-up will appear. In the "Field" drop-down tree, select "_Tag." In the "Codepage" drop down tree, select your desired language. Hit "OK" and you will see the newly created action (" Character Set") is now available.

Step 6 - Apply the Changes to Your Files

Select the box next to the newly created action and hit "OK." You will receive a confirmation reading, "Formatted tags in 'X' of 'X' Files." Click the "Save" icon in the upper lefthand corner and you will receive the following confirmation: "Saved tag in 'X' of 'X' Files."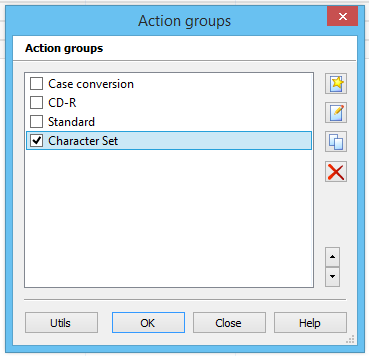 Step 7 - Add the Files to Roon

Add the content into your watch folder in Roon and the data should be displayed correctly.


If you've previously added them, you might need to select your content and choose Re-Scan on the Edit menu.