FAQ: When I press Play now on an artist page how does Roon choose the songs to play?
When you press Play now on an artist's page Roon randomly shuffles and plays from that artist's discography, as well as any tracks they are featured on.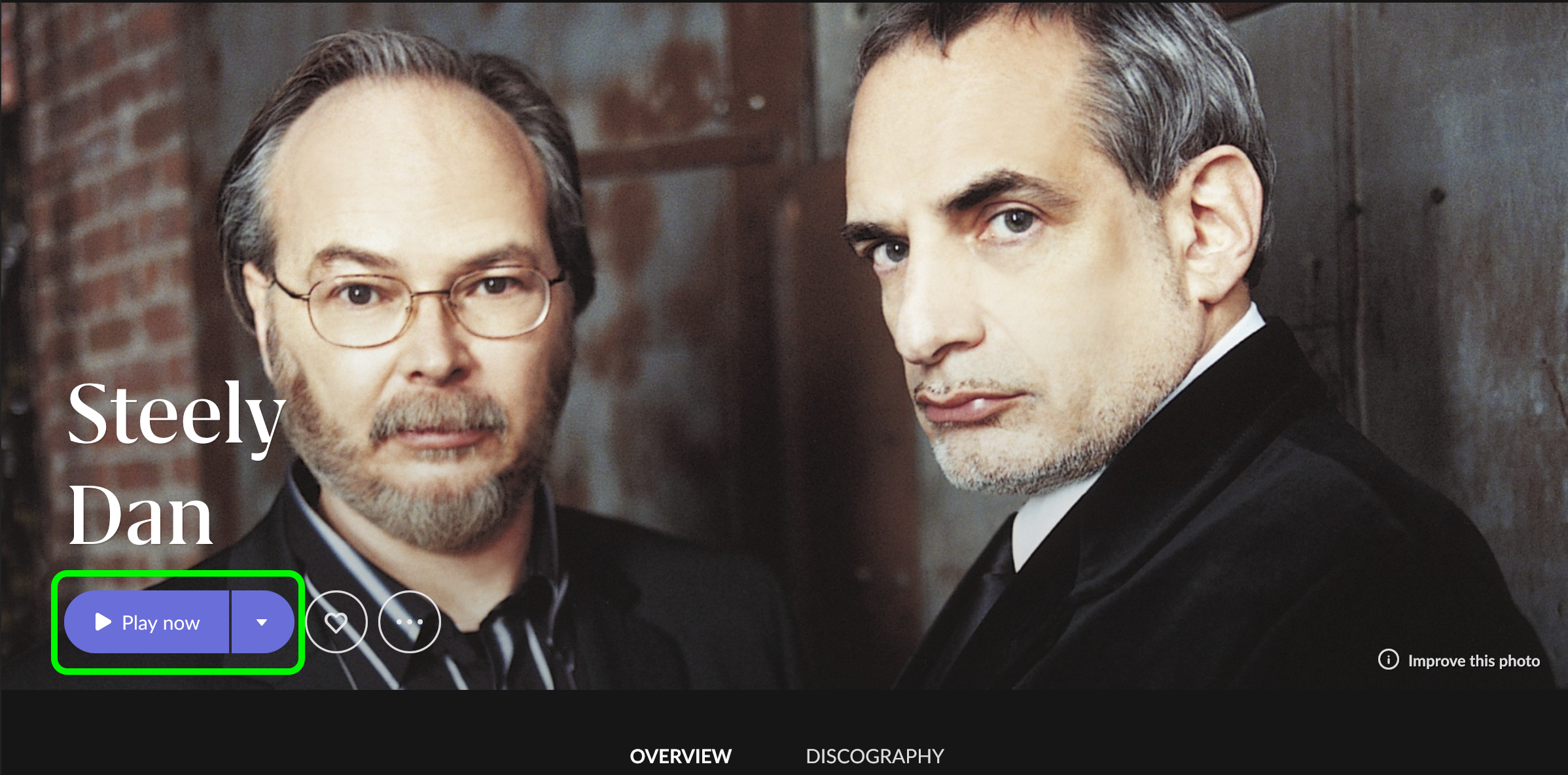 You can also use the down arrow next to the
Play now
button to chose other quick play options, such as Start radio. Start radio will play random selections by the artist, as well as similar music by their contemporaries and collaborators. Radio selections are shaped by your listening history as well as those of other subscribers who share your taste in music.

Bonus tip: the quick play options on an artist page can be customized by going to Settings>Play actions>Composers and artists>Edit.
Related Articles

FAQ: What play options are available for artists, albums, composers, genres, and tracks?

When you see something you like in Roon, you generally have 2 options for how you want to play it: Play, and Radio. If music is already playing, you'll also have the option to add songs or albums to the play queue, either at the end of the queue or ...

FAQ: How do I select songs or albums? What can I do?

Selecting You can select tracks, albums, and lots of other things from almost any screen in Roon. To select something, right-click when using a mouse, or press and hold when using a touch interface. Once you've selected something, a selection bar ...

FAQ: How do I build playlists in Roon? How do I edit them?

Playlists vs the Queue The first thing to understand about Roon is that there is a difference between Playlists and the Queue. When you select a track or album to play, it is slotted into the Queue for playback. As you queue more songs, they are ...

FAQ: How does Roon handle multiple versions of the same album?

How Does Roon Handle Duplicates? Roon automatically detects when you have multiple copies of an album in your library or available via your connected streaming services. Since Roon groups every version of the album together in one spot, it's easy to ...

FAQ: How do I set up my NAS in Roon?

In Settings, click Storage, then click Add Folder. Roon will monitor folders for new music. Your files are left in the folder and won't be copied or modified in any way unless you explicitly choose to add or remove them from your library. In the Add ...
Visit the Roon Community!

Need help? Thousands of Roon subscribers and audio enthusiasts are chatting over on our community site right now, join them! You don't even need a Roon subscription to sign up.