FAQ: How can I save recommendations to listen to later?
How can I save recommendations to listen to later?
Roon has a wealth of features and functionality to discover and explore music.
Recently a new Roon customer asked,
When browsing articles on my Mac I just add something to my reading list if I want to go back to it later. Is there a way to do this in Roon with new albums or single recommendations? Can I add them to a listening list before adding to my library? Thanks, I'm loving Roon!

Creating a playlist is a quick and easy way to save music you'd like to hear later, but not add to your library immediately.
Let's say you're looking at your TIDAL tab in Roon and see several albums that pique your interest.

Long press them to select the albums you want to review
Then click the ellipsis button at the top of the page (1)
Select Add to playlist (2)
Create a new playlist (3)
Name the playlist and press Create (4)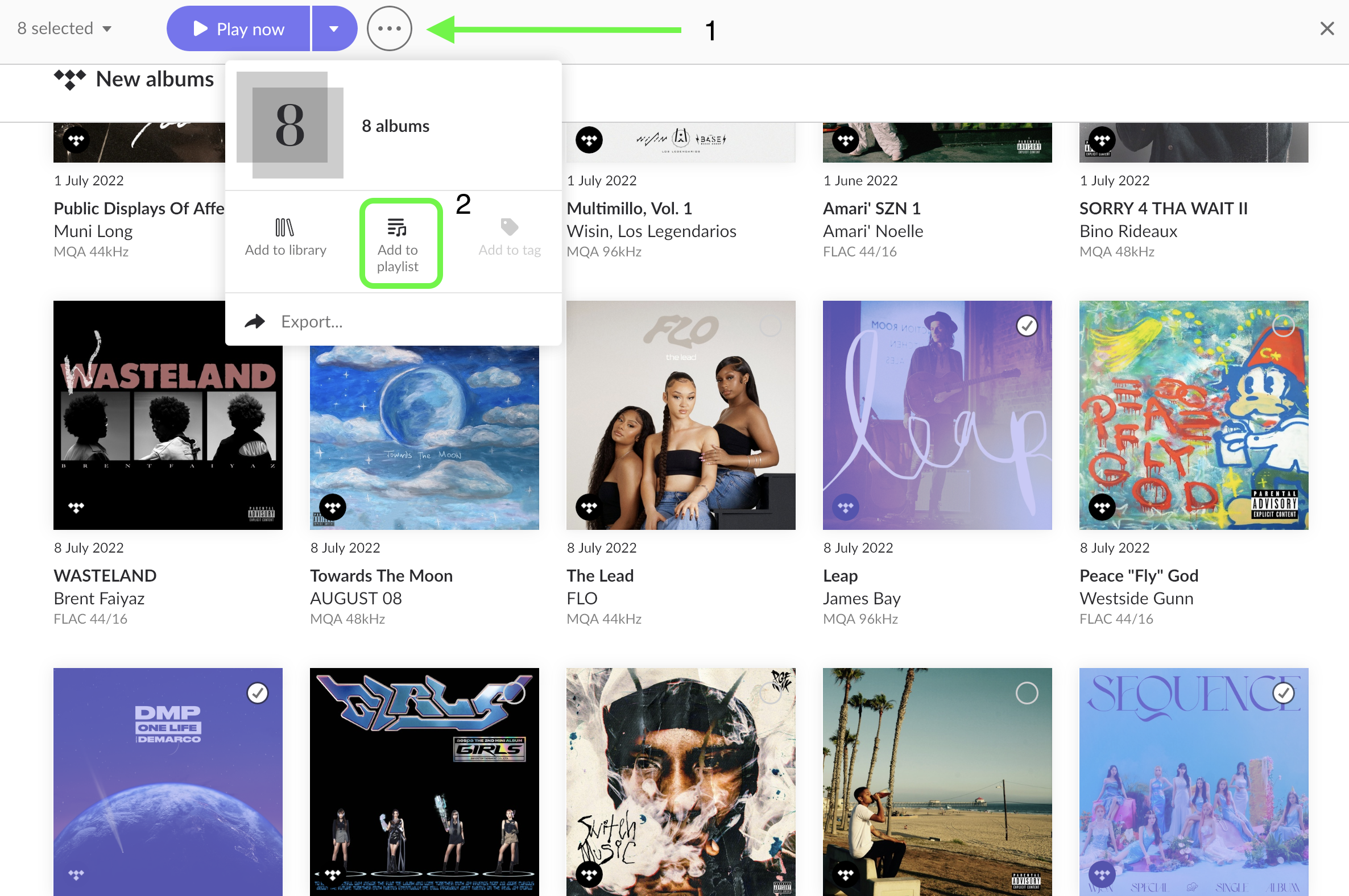 This will save a list of the music you want to explore, but not add it to your library

If there's something in the list you do want to add to your library, simply click the album title in the playlist
Then the plus button on the album page
You can create a new playlist each time, or simply add new selections to the Explore playlist you've already made.

It's that easy!
Related Articles

FAQ: Can I scrobble to Last fm while I listen in Roon?

Yes, all you have to do once your profile is set up in Roon is log in to your Last.FM account. Click your name at the top of the sidebar to open the profile picker. Find the profile you want to add a Last.fm account to, select it and press the pencil ...

FAQ: What's Radio and how does it work?

What is Roon Radio? Designed from the ground up with machine learning technology, Roon Radio can play a mix of your favorites along with music from beyond your library, using the vast catalog of music from TIDAL and Qobuz. Roon Radio makes ...

FAQ: What's a watched folder?

You add your local music to Roon via "watched" folders. These are folders that will be monitored by Roon for new music. Your files are left in the folder and won't be copied or modified in any way unless you explicitly choose to add or delete them ...

FAQ: Can I control Roon remotely?

When you first install Roon, you will set up your Core, which functions as the main server for Roon in your household. Whether your Core is near where you listen to music or on the other side of the house, there's a good chance it's not a convenient ...

FAQ: I'm having problems setting up Airplay

I'm having problems with Airplay -- help! Setup To use an Airplay device with Roon, first make sure Roon is running on the same network as the Airplay device. If you are running supported Airplay devices on the same network, they should appear on the ...
Ask the Roon Community

Thousands of Roon subscribers and audio enthusiasts are chatting over on our community site right now, join them! You don't even need a Roon subscription to sign up.

Something you can't find?

If you're still stuck, don't hesitate to
let us know
and we'll get back to you as soon as we can.