Nucleus Web Administration Interface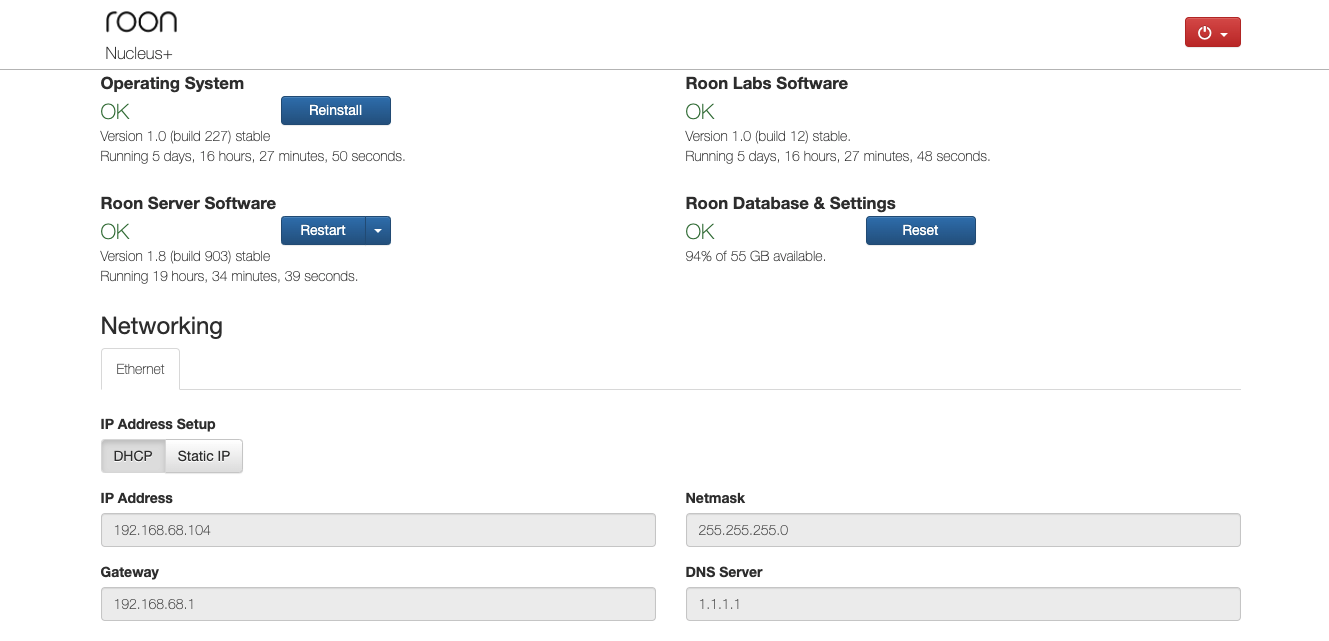 Connecting to the Web Administration Interface
You can use a web browser to perform operations like configuring settings, updating firmware, formatting internal storage, and resetting to factory settings. To use Roon to help you load up the Nucleus Web Administrative Interface, visit the
Connecting to Nucleus
guide. You can access the Web Administration Interface by going to
Settings > Setup > Find Roon OS
as seen below.
To get to the Nucleus Web Administration Interface, you need to click on "Find", which will show you a screen like this:


Your Nucleus should be automatically found and listed. Click on its IP address as shown and the Nucleus Web Administration Interface will open in a web browser.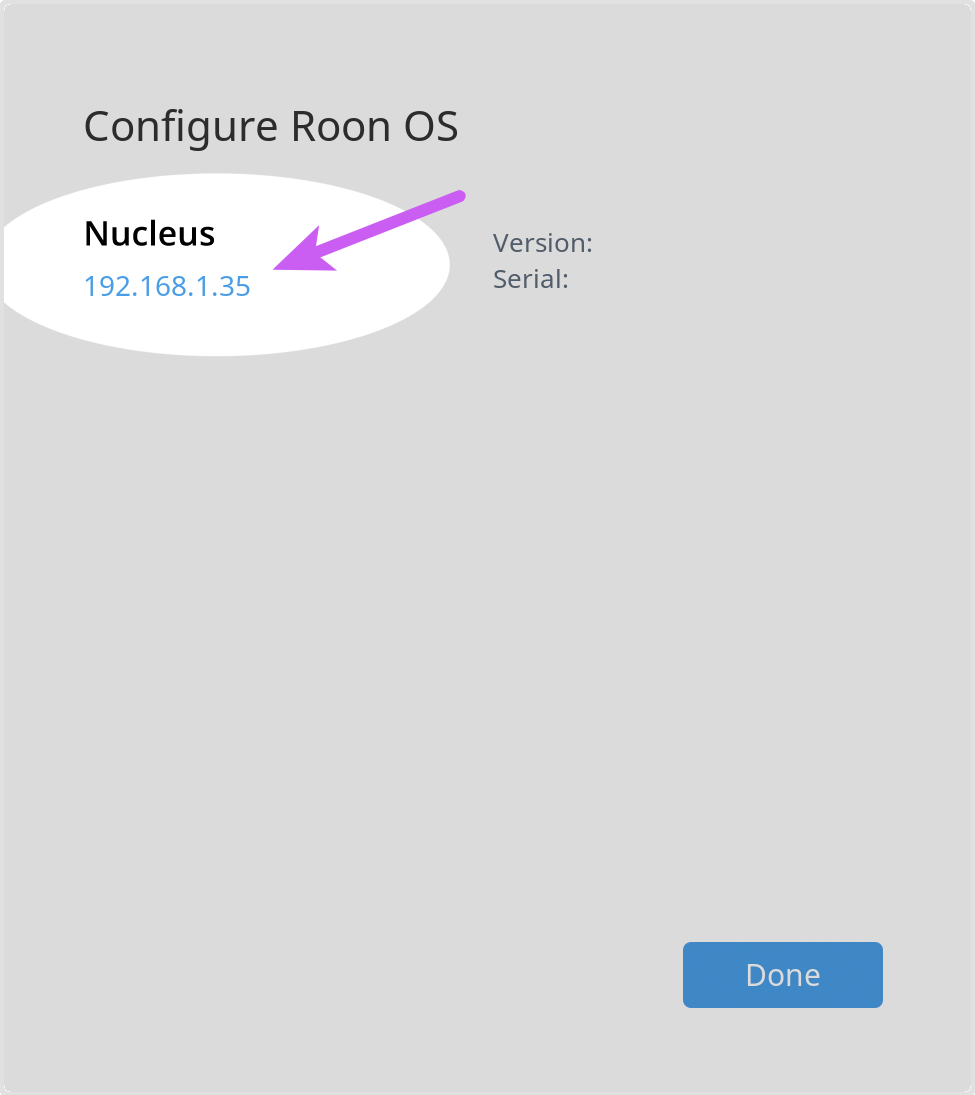 Using the Web Administration Interface
Functions

The following functions can be performed from the Web Administration Interface:
Reboot or power off - At the top right is a red button, which can be used to reboot or power off the Nucleus.

Reinstall RoonOS and RoonServer - Next to the Operating System section is a Reinstall button that installs the latest firmware available for Nucleus, even if you are up to date. This operation can take several minutes depending on your internet connection. This button will always reinstall the latest firmware, even if you are already running the latest.


Reinstalling the software will not affect your settings or your Roon Database.


Stop and Restart RoonServer - Next to the Roon Server Software section is a button/drop-down that lets you stop/start or restart Roon Server. Stopping Roon Server can be useful before doing a large import.

Reset all Settings / Databases - It is possible to reset all Nucleus settings, Roon settings, and your Roon database back to "factory defaults". To do this, click Reset next to the Roon Database & Settings section.


This will not make any changes to your internal storage.


Format internal storage - If you have a hard disk drive (HDD) or solid-state drive (SSD) installed in the Nucleus, it must be formatted by Roon OS before it can be used. More information on internal storage can be found here.

Setting a static IP address - Like most networked devices, Nucleus defaults to DHCP for the configuration of its network interface. Using a static IP for Nucleus is often not required and not recommended.


To configure the interface manually, change the IP Address Setup to Static IP, then manually enter IP Address, Netmask, Gateway, and DNS Server.

Note: Incorrect static IP settings could render your Nucleus unreachable on your network. A thorough understanding of networking principles and familiarity with the host network is strongly recommended if you intend to configure your network interface manually.

If you accidentally enter an incorrect static IP and your machine is left unreachable, you can use a second network interface to help get out of this situation (because it will be configured by default to use DHCP).


Configuring a second network interface - If you use a USB network adapter with Nucleus, it will populate itself with a second network interface. This second interface will appear as a new tab under the Networking section and can be configured the same way as the onboard gigabit ethernet port.
Related Articles

Updating Nucleus

Once your Nucleus has been powered on you'll want to make sure that it is completely up-to-date before moving forward. The following steps will walk you through updating your Nucleus firmware and RoonServer software. Updating Nucleus Firmware When ...

Nucleus Migration Guide

If you're setting up Nucleus, and your Roon Server had previously been running on Mac, Windows, or Linux, you'll need to migrate your Roon database. Your database includes your playlists, edits, play history, tags, settings, and more. This guide will ...

Nucleus Internal Storage

Nucleus supports placing an HDD or SSD into its case, to create a fully contained solution. If you chose to use an SSD here, the system will stay fully silent. The drive needs to be formatted using the Nucleus web administration interface before it ...

Formatting Nucleus Internal Storage

To start, let's connect to the Nucleus Web Administration Interface. Next, confirm that your drive is shown. If an HDD or SSD is attached to the Nucleus's internal SATA connector, you will see the "Internal Music Storage" section in the Web ...

Installing Nucleus Internal Storage

These step-by-step instructions will walk you through the process of installing an HDD or SSD for internal storage in Nucleus. Step 1: Make sure you have everything 2.5" HDD or SSD with a drive height of 7mm or 9mm for Nucleus Rev A and up to 15mm ...
Visit the Roon Community!

Need help? Thousands of Roon subscribers and audio enthusiasts are chatting over on our community site right now, join them! You don't even need a Roon subscription to sign up.