TIDAL is a subscription-based music streaming service that provides lossless audio streaming. Subscribers can stream millions of losslessly encoded tracks to both TIDAL's own apps, as well as Roon.

The Roon + TIDAL is an experience far beyond Roon alone or TIDAL alone, as it allows you to navigate your own music without unwanted content cluttering up your experience while giving you the right touches of extra content exactly where you want them the most.


TIDAL does not support free accounts for use with 3rd party integrations. You will need a paid account to use TIDAL in Roon.
Enabling TIDAL
Roon will prompt you to add your TIDAL account on first launch, but you can always link Roon and TIDAL at any time from the Services tab of Settings. Click the navigation icon
at the top left of the Roon window, then click Settings, and open the Services tab. From here you can click Login to link your TIDAL account in Roon:
Here you can also choose the streaming quality that Roon will use for TIDAL content: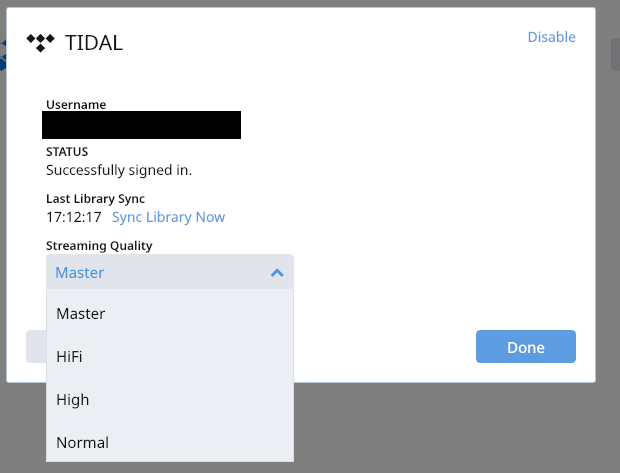 Browsing TIDAL and adding albums to your library
Browsing TIDAL is easy if you've already enabled TIDAL in Roon. Just click the navigation icon
at the top left of the Roon window, then TIDAL. Here you can access what's new on TIDAL, TIDAL's Rising list, Playlists, Genres, your Favorites, and more. If you want to add an album to your library, just click it to open the album detail screen, then click
+ Add To Library
. This will add the album to your Roon library so it's accessible alongside your local albums, and add it as a favorite in the TIDAL client.
Why aren't the latest albums on TIDAL available in Roon?
When you're browsing TIDAL in Roon, you're seeing Roon's TIDAL database, not a direct pass-through of what's shown on TIDAL -- that's why there's so much more metadata, like recording dates, lyrics, links to composers, credits, etc. This is also why Roon can sometimes be slightly behind TIDAL when a brand new release comes out -- our database is generated multiple times per week, but sometimes a new album will just barely miss the cutoff and will show up in a day or two.