Playlists vs the Queue

The first thing to understand about Roon is that there is a difference between Playlists and the Queue.

When you select a track or album to play, it is slotted into the Queue for playback. As you queue more songs, they are added to the end of the Queue, like a jukebox. Likewise, if you select a playlist, it is added to the Queue. And multiple playlists can be added to the queue at any time.

Building Playlists

You can add tracks or albums to playlists from almost any screen in Roon. First, select what you want to add by right-clicking if you're using a mouse, or pressing and holding when using touch. A selection bar will appear across the top of Roon: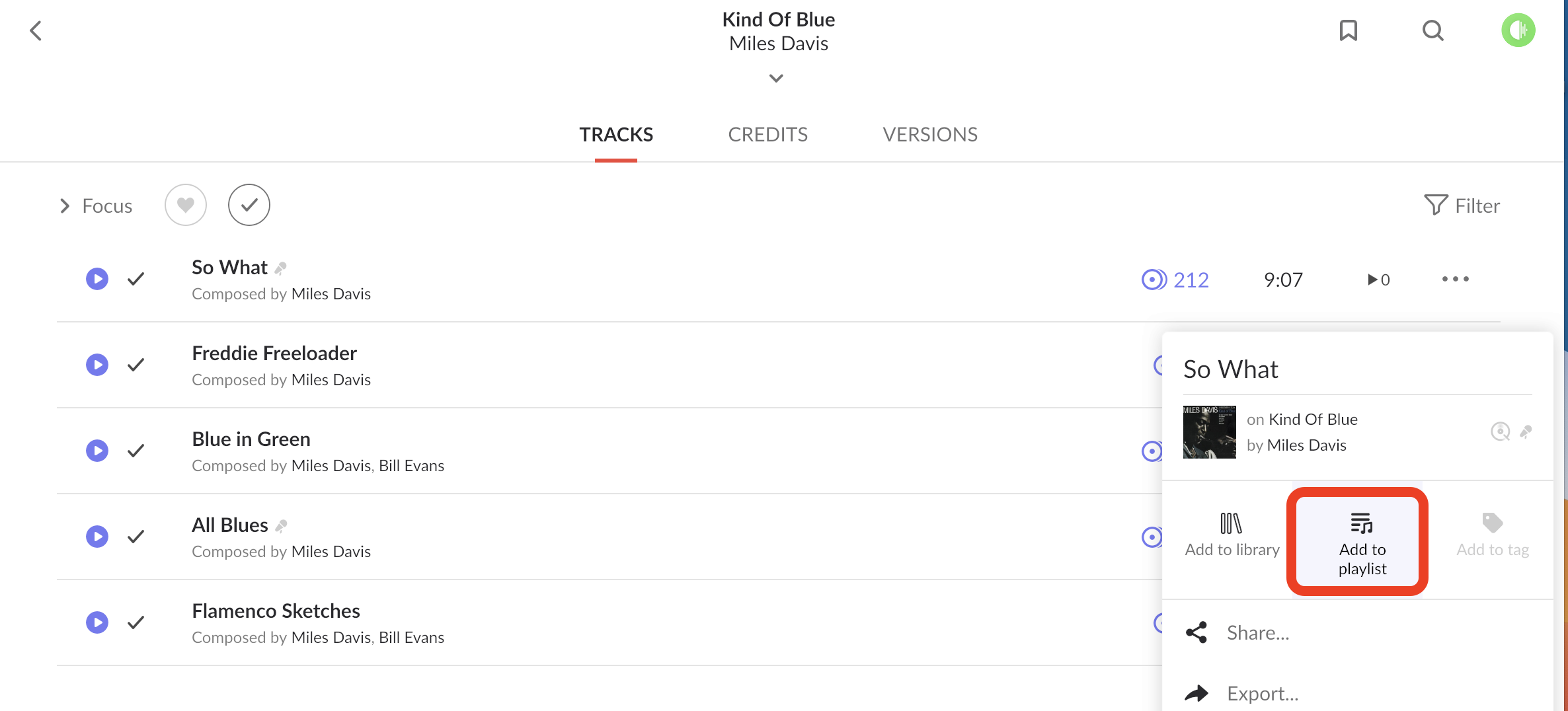 Click the " +" button and select Add To A Playlist to add the selected songs or albums to an existing playlist, or to start a new playlist.

Editing Playlists

Playlists created in Roon can be edited by selecting Playlists from the main navigation sidebar. Click the playlist you want to edit. On the playlist details screen, you can make a few different edits:

Select tracks and click on the three dots at their right to remove them from the playlist

Click the three dots at the top right of the playlist to rename or delete the playlist

Use the "drag handle" on the left to reorder tracks (it looks like 2 parallel dotted lines)

Additional Information

Playlists created in Roon are attached to a profile, so each member of your household can have their own playlists. This does not apply to imported playlists, which are available to everyone

M3U files in your Watched Folders will be imported and displayed in your playlist browser. Note that an imported playlist can only contain tracks from the same watched folder

Playlists you have marked as a Favorite in your Tidal account will also appear in your Playlists

Playlists imported from Tidal, iTunes, or from M3U files are not editable in Roon at this time. If you want to edit them in Roon, you can save a copy in Roon by clicking the pencil icon at the top of the playlist's detail screen

At this time, Roon does not support syncing playlists back to Tidal

If you're looking for additional functionality or changes, head over to
Feature Requests
and let us know!