If you're asking yourself this question, it probably means that Roon is working out quite well for you, to the extent that you're contemplating using it more than just at home: maybe at the office, or in a vacation home. This article will explain how subscriptions work, what can and can't be done, so that, by the end of it you'll have a pretty good idea on whether another Roon subscription is needed in your case.

How can I use just one Roon subscription?

Regardless of the billing plan you're on (monthly, yearly or lifetime),
one
Roon subscription allows for
one active session
at any given time. This includes an active Roon Server and as many compatible remote and audio devices you want to include in the system.

The Roon subscription is not connected to a specific Roon Server, rather it is connected to your Roon account.
As a result, you can use your subscription on as many servers as you like, just not at the same time. Since there can only be one active session at a time, when you use your email and password to log in on another server, you will be prompted to unauthorize the previous session. Doing so will allow you to use your subscription on this other server. The screen would look like this: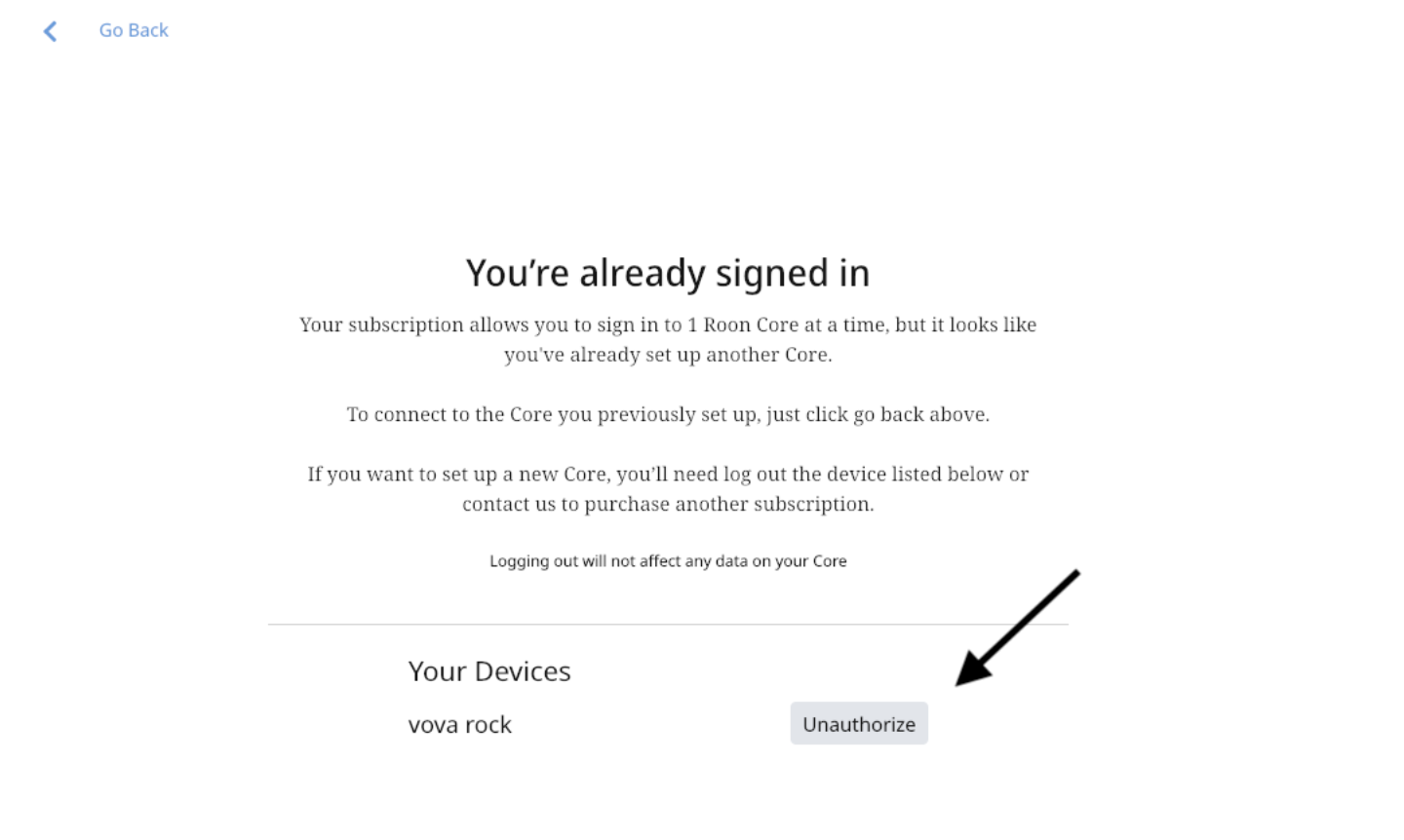 This is extremely helpful when, for any reason, you want to replace your current Roon Server with a different device. We've documented the process step by step in
Moving Roon to a new Roon Server
.
Why would I need another Roon subscription?

The most frequent reasons our subscribers choose to have another Roon subscription are these three:

1. Ease of login

Rather than keeping track of separate accounts and always logging in with the appropriate account on each server, it is easier to have all your subscriptions consolidated under a single email and password.
2. Unauthorizing becomes burdensome
For some of our subscribers, having to go through the unauthorization step when logging in on the other server becomes burdensome. By having the same number of subscriptions as number of active servers, the unauthorization is no longer necessary. The same account is used to log in on all servers devices and they can all be active at the same time.
3. Keeping Roon Servers in sync

Just as a Roon subscription is connected to an account server, so is the
database
(that includes all the information about how you are using Roon, including but not limited to your settings, profiles, favorites, bookmarks, play history, playlists, tags, etc.). Being account specific, the database can only be restored on the account it was created.
When all subscriptions are under the same account,
restoring the database
is possible on all servers on which the account is used to log in, this way you can keep them manually in sync.
For example, one of the servers can be considered the "Master Server". The "master" backup from this server, can then be regularly restored on all the other servers. The backup can be copied on a USB thumb drive that's easily portable to other locations, or, you can backup
directly to Dropbox
. It is paramount to note that while you can store your backup in Dropbox, we recommend agains restoring directly from Dropbox (due to download limits): it is best to download the backup first, and only then restore.

At the moment, it is not possible to keep multiple Roon Servers automatically in sync.
How can I obtain another Roon subscription on the same account?
Purchasing more than one subscription from the
account page
is not possible at this time. However, our team can help with starting another subscription on your existing account. Please,
let them know
the type of subscription you'd like and they will get it started. The payment method on file will be charged the correct amount.

Currently, there are
no discounts
for purchasing another (second, third, etc.) Roon subscription.
Pricing
is the same as for the first subscription.

While you can simply create a second account and purchase another subscription this way, we recommend against it, for at least two reasons: we are unable to merge accounts at this time, if you decide in the future you want to consolidate your accounts; and you will be unable to keep the two accounts in sync: they would be running in parallel.