If you imported your music during the set up process you're good to go!
Questions about setting up a NAS to use with Roon? Start here
Watched Folders
If you want to import a new folder of music, you'll want to set up a Watched Folder. You can do this from the Storage section of Settings, by clicking the Add Folder button under the Folders section.

The Choose Music Storage Folder dialog is displayed. It will show the drives directly attached to the device where the server is running, and the storage folders present on the drive currently selected. Here, for example, Roon Server is running on a Mac, and the Music folder is selected.
Selecting the "Music" folder and then clicking the "Select This Folder" button will display the Add Storage Location dialog. Note that the current path to the selected folder is displayed. If this is not the desired folder, clicking the Browse button will return you to the Roon file browser for you to choose a folder local to the device that is running Roon Server. Notice that you have options to import iTunes content and Playlists on this screen. Roon can also ignore the content of folders where the path contains a pattern matching those listed in the Ignored Paths field.

Once you have the desired folder and set the options you want, press
Add
and your import should begin.
You can manage your music folders by clicking on the ellipsis next to the respective folder. The drop-down menu will allow you to disable the music folder (you will still see the folder in Settings -> Storage, but the music within the folder will not be accessible in Roon), remove it (the folder will no longer show up in Roon, but the contents of your folder will be intact), edit it or rescan it.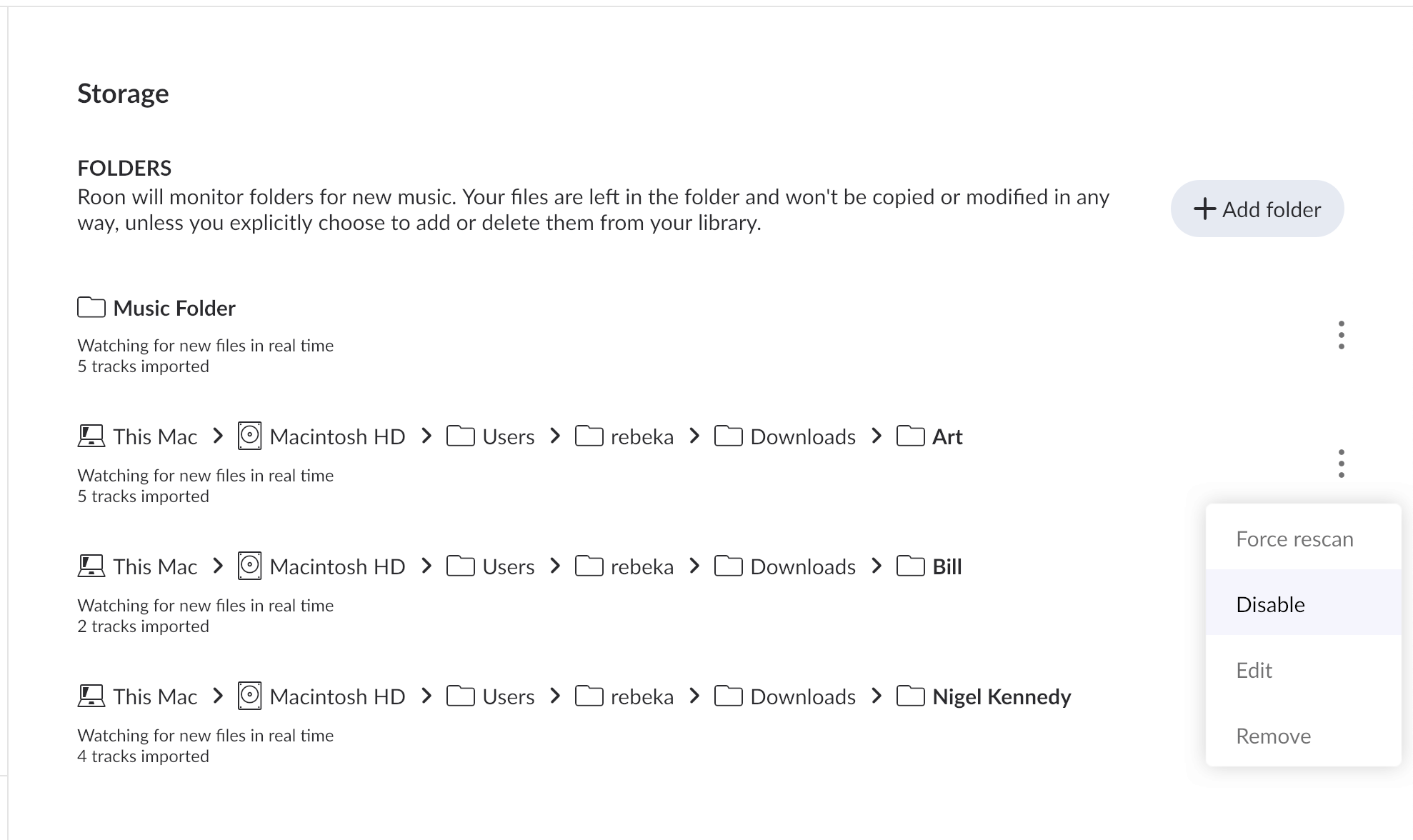 Adding music from a NAS or network share
In the Roon file browser, click the Add Network Share at the bottom of the browser.

In the Add Network Share dialog, enter:
You may also need to type something (likely 'workgroup') into the Workgroup field, depending on your configuration.

Then, press Add Network Share, to be returned to the file browser, then press Select This Folder and your import should begin.
Note that on macOS, watched folders that are shared over the network must be mounted using SMB, not AFP.
Having trouble setting up your NAS? Check out this troubleshooting guide.
More Information
If you want to copy music into Roon, just drag and drop your files anywhere onto the application window (you can do this from a remote, too!), and press Yes, Copy!