Offline Listening in Roon ARC

To begin make sure you have Roon ARC installed on your mobile device



In this how-to, we'll walk you through everything you need to know to listen offline in ARC. First, you'll need to make sure you've installed Roon ARC on your mobile device. Visit the
App Store
or
Play Store
to download the app.
Once ARC is installed and configured
, all that's left to do is browse, select, and download the music favorites you can't live without.
Offline listening essentials
Before we dive in, let's touch upon one of your frequently asked questions, "Why can't I download music from TIDAL and Qobuz in Roon ARC?" The reason whytakes us into the complexities of music licensing – but thankfully, only momentarily.
Offline listening in Roon ARC requires the use of files from your local music library because music from TIDAL and Qobuz cannot be downloaded to other apps. Streaming services can only allow customers to download music when using the streaming service's native app. It's an industry-wide music licensing restriction that applies to all streaming services with third-party partners.
Fortunately, syncing local music to your Roon library is easy. Once added, ARC seamlessly transforms your Roon library into an unmatched, uniquely personalized streaming experience featuring all your music favorites.

Downloading your music in ARC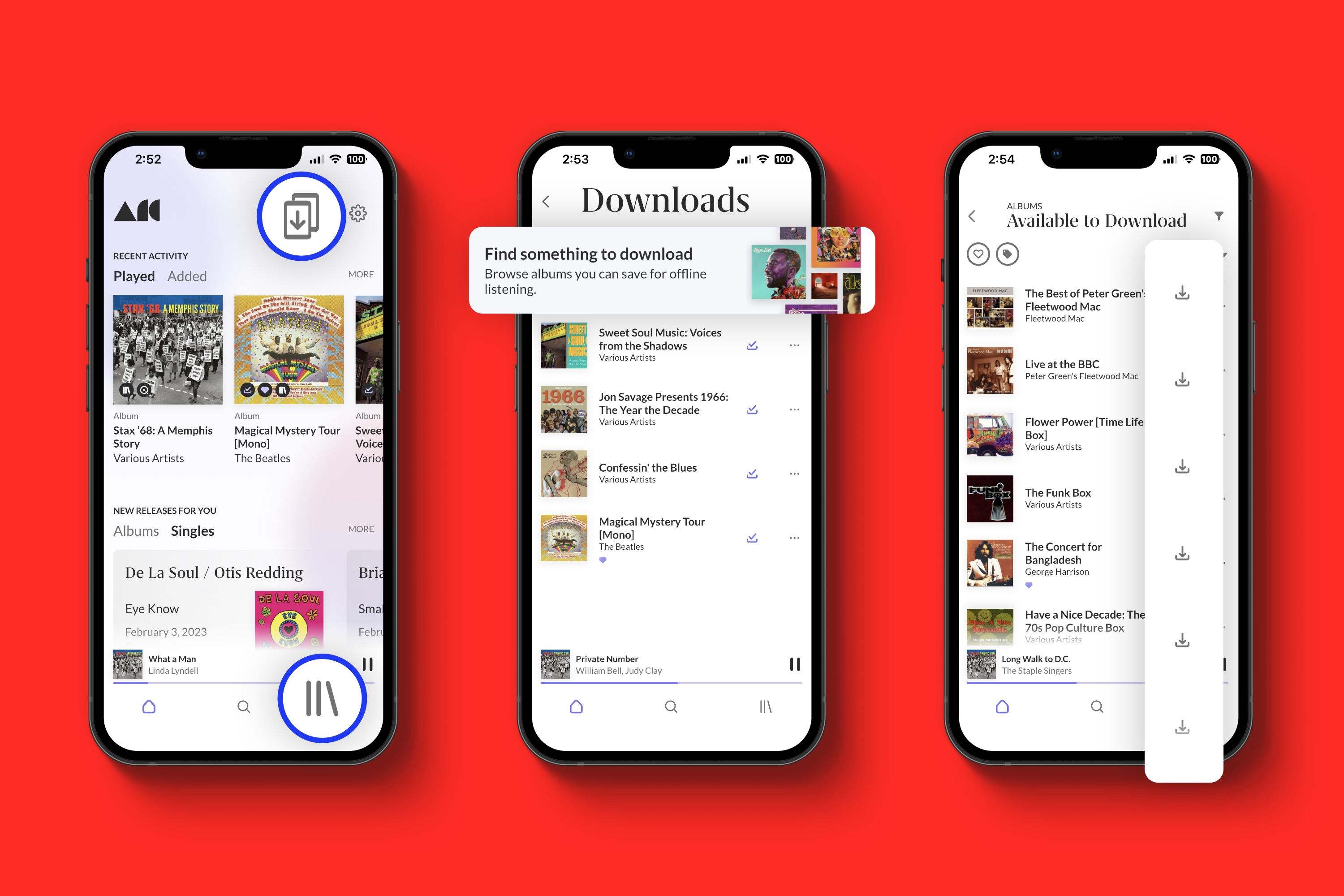 Immediately upon opening the app, ARC makes finding music for offline listening effortless.

To get started, tap the downloads icon at the top of the ARC home screen. (You can also use the library icon in the footer and then press Downloads on the next page.)
Your current downloads are displayed on the Downloads page.
Press the Find something to download banner on the Downloads page to browse albums from your local library.
Tap the download icon to download an album on the Available to Download page.
The album will begin downloading. Selecting multiple albums will create a download queue.


BONUS: You can still listen to music while your selections are downloading!

Finding downloads from your library pages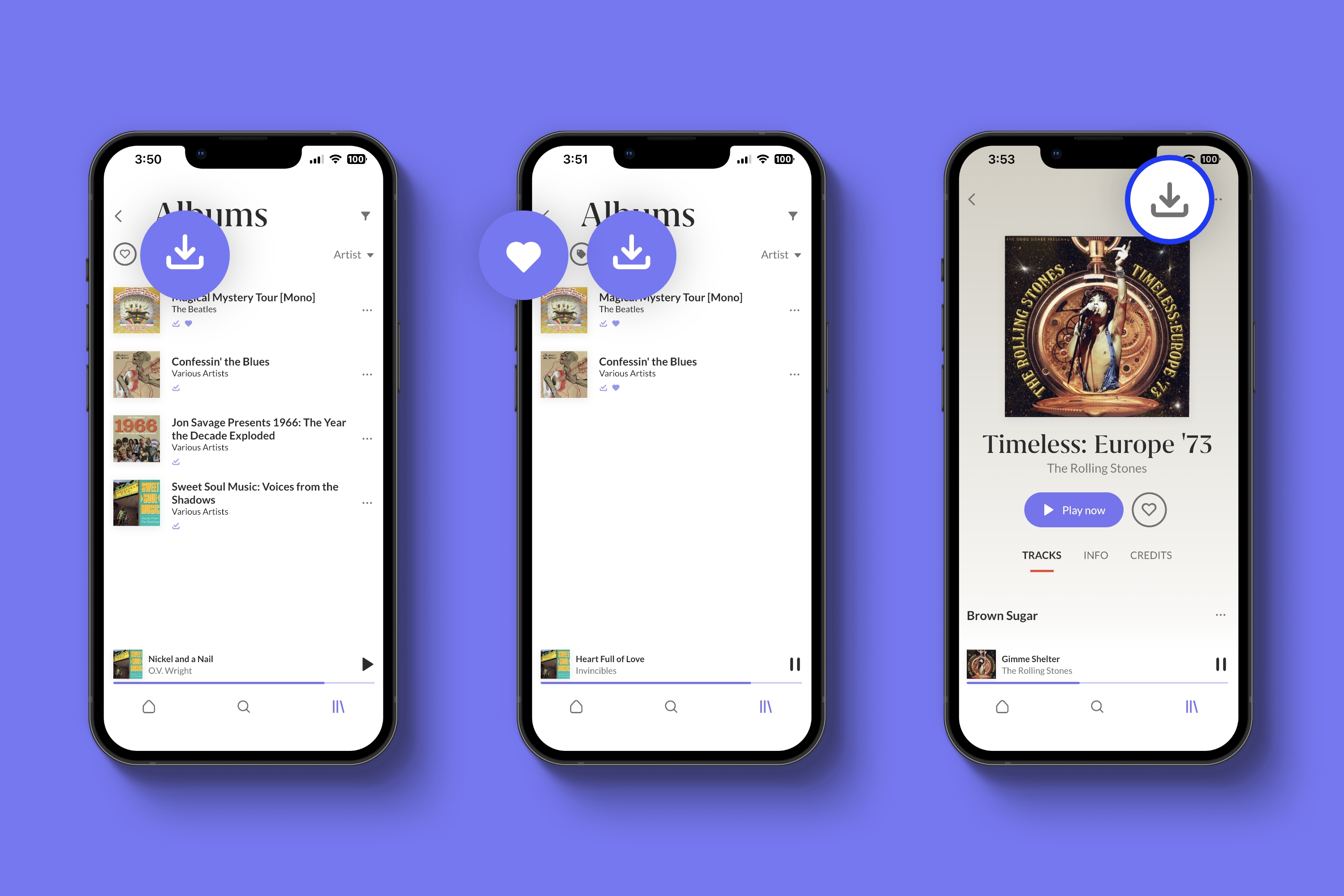 Finding your downloads in ARC is equally intuitive. For this example, we'll use the Albums page.

Press the library icon in the footer to navigate to your Albums page.
Tap the download icon on the Albums page to see your current downloads.
You can also press the favorites icon while the download icon is selected to see favorited albums in your downloads.
The download icon will appear on album or playlist pages that display music from your local library.
Simply tap the download button to save a copy on your device for offline listening.


Pro tip: ARC will automatically filter to display your downloads when in Offline mode!

Removing downloads from your device





ARC makes removing downloaded music as effortless as browsing for your local files.
To remove downloaded music from your device, press the download icon or ellipsis button when viewing music from your local library.
The download icon provides two options: Remove from downloads, or View all downloads.
Tap Remove from downloads to remove the selection from your device storage.
The ellipsis button provides a greater range of functions, as shown.
Press Remove from downloads to remove the selection from your device storage.


Pro tip: You can batch-remove all downloaded music from your device storage by pressing Delete all downloads from the ARC settings page.

Caution: The Remove from library option permanently deletes the selection from your Roon music library. If you only want to remove the item from your mobile device storage – use Remove from downloads instead.
More helpful tips



To switch to offline listening in ARC, tap the gear icon on the ARC home page, then toggle on Offline mode – found just below profiles. ARC automatically filters to your downloaded music when viewing library pages in Offline mode.
By default, ARC is set to download music in its original quality and preserve your mobile data by only downloading while on Wi-Fi. To turn off that setting:
Press the gear icon on the ARC Home Page.
Go to Downloads and turn off "Download on Wi-Fi Only."
Alternatively, you can start downloading a selection while on mobile data.

ARC will prompt you to change your settings preferences.


Download speeds in ARC will vary depending on your in-app download settings, the internet traffic and speed of your home network, and the strength of your data connection while downloading to ARC on your mobile device.
Need help with adding your local music library to Roon?



No problem, we have you covered! See
these articles
for easy step by step instructions!
Related Articles

ARC FAQ

Overview What is ARC? Roon ARC allows you to take your Roon experience on the go. ARC lets you browse your library, play local and streaming content, download local media to your phone, and update your collection by adding albums, building playlists, ...

Does Roon ARC work with CarPlay and Android Auto?

Roon ARC offers full support for CarPlay and Android Auto! CarPlay and Android Auto fully integrate Roon's browsing and discovery features into your car's controls for safe and easy playback while you drive. Take the ultimate Hi-Fi joyride CarPlay ...

Exclusive Mode

The Exclusive Mode setting tells Roon to take exclusive control of your audio device. During this time, it can't be shared with other applications. This allows Roon to precisely control every aspect of the playback without any interference from the ...

ARC Port Forwarding

Overview Roon ARC is designed to connect to your Roon Core from outside your home. This allows you to access your Roon Core on the go so you can play your files and streaming content, in addition to updating your library, playlists, favorites, and ...

About Roon

Roon is a music management and listening solution that takes a very different approach to interacting with your music. Instead of seeing a spreadsheet-like view of your music (as with iTunes and almost all other media systems), Roon provides a very ...
Visit the Roon Community!

Need help? Thousands of Roon subscribers and audio enthusiasts are chatting over on our community site right now, join them! You don't even need a Roon subscription to sign up.