FAQ: What's volume leveling?
Roon analyzes your music files using the ReplayGain algorithm. Roon also uses volume leveling information provided by TIDAL and Qobuz for their streaming content. If volume leveling is enabled, Roon will automatically adjust the volume to maintain a consistent loudness from track to track.




To enable volume leveling click the volume icon in the footer, then click the settings (gear) icon.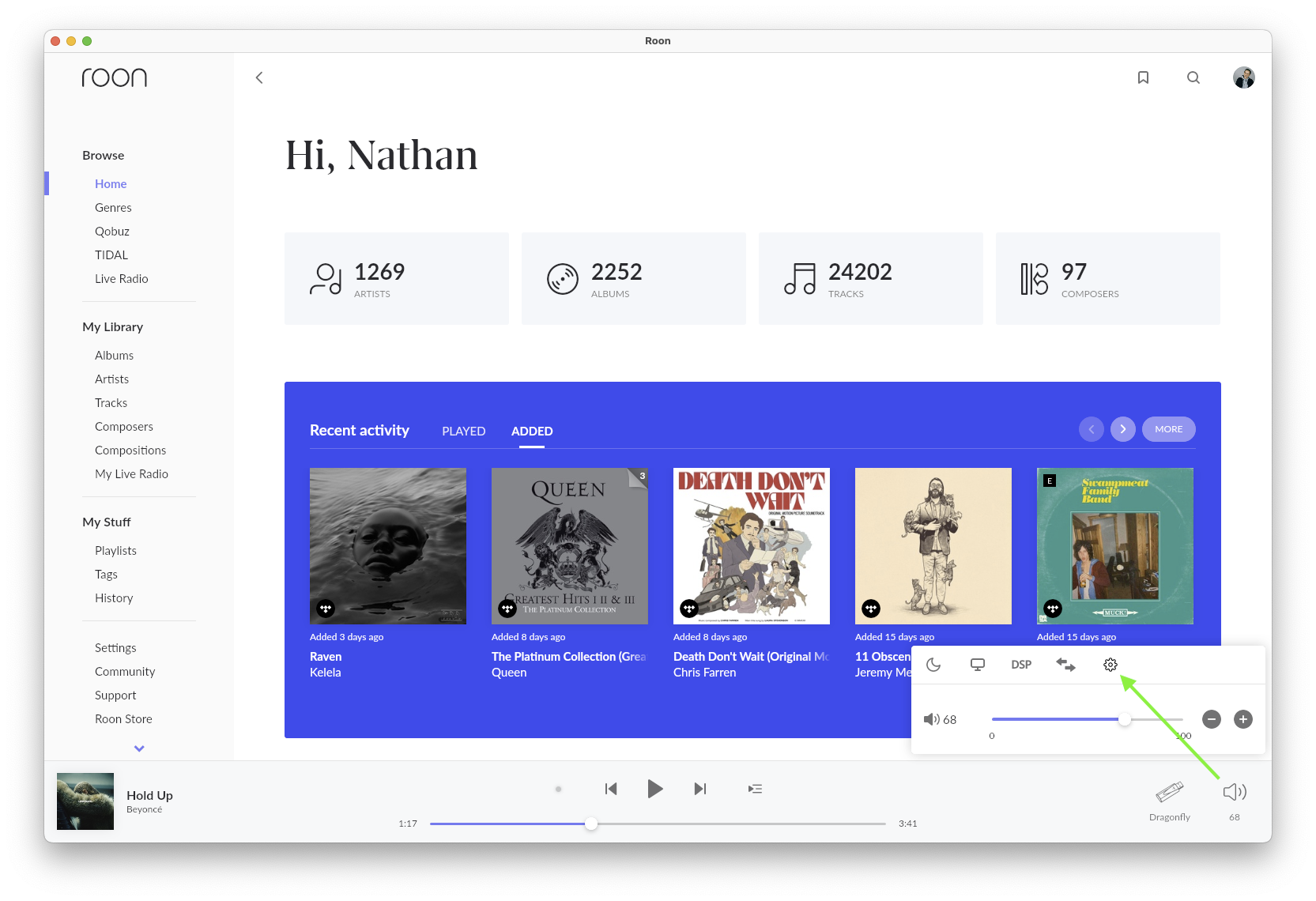 Volume leveling is under Zone Options, use the pulldown menu to select volume handling options.
You can find more details about how Roon implements volume leveling in our
Volume Leveling
article.
Related Articles

Volume Leveling

Introduction Volume Leveling automatically adjusts the playback volume in order to maintain a consistent level regardless of the source material. Many people have Volume Leveling enabled all of the time as a way to minimize the need for manual volume ...

FAQ: Why is Roon converting to PCM?

The most common reasons why DSD is converted to PCM are: The audio device isn't reporting DSD support to Roon The audio device isn't configured to support DSD playback Volume leveling or Crossfade are enabled for the current zone Features in the DSP ...

FAQ: How can I achieve the best quality output?

Start with lossless or high-resolution content, and stream it to a high-quality endpoint that supports the content's native resolution. You can read more about the endpoints we support here. During playback, you can use the Signal Path feature to ...

Audio Analysis

What is Audio Analysis and how is it used? During audio analysis, each file in your library is analyzed in order to extract information about their audio content. Data extracted during audio analysis is used for several purposes: Volume Leveling ...

FAQ: Which zones can I control remotely?

What kinds of outputs can I control remotely in Roon? You can use Roon to remotely control anyzone, including: Outputs connected to your Roon Server Outputs connected to devices or computers that are running Roon as a remote Outputs connected to ...
Visit the Roon Community!

Need help? Thousands of Roon subscribers and audio enthusiasts are chatting over on our community site right now, join them! You don't even need a Roon subscription to sign up.